2024 Udayabharatham Hindu Wall Calendar - (Malayalam) BookingOnly
Non-returnable
Booking Started! Delevery November First Week
Heritage of Sanatana Dharma is rich and significant. Living according to the Sanatana Dharma brings prosperity and wellness to individuals and families.
Udayabharatham Hindu Wall Calendar – 2024 serves as a guide to those who wish to lead their lives in the traditional Hindu way.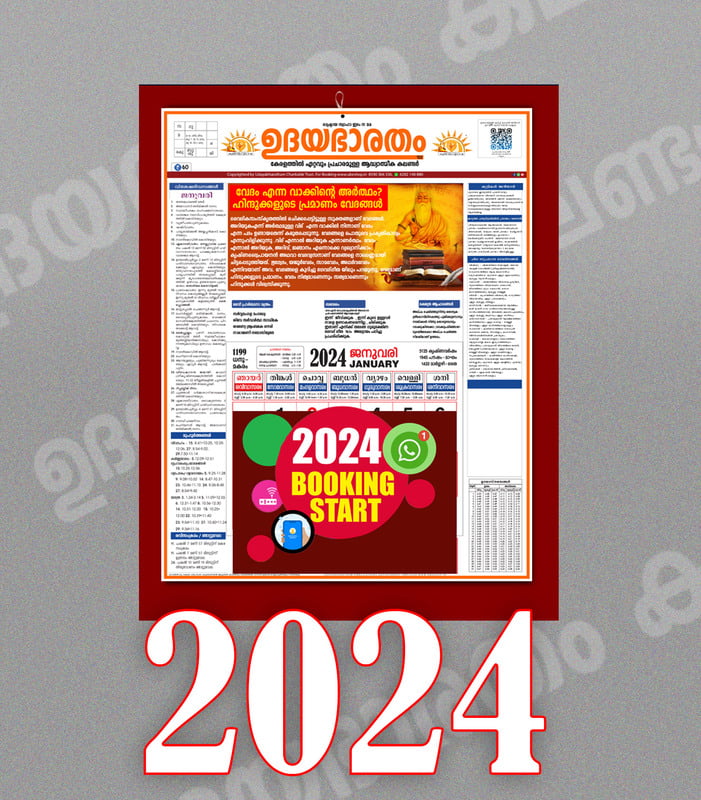 Udayabharatham Hindu Wall Calendar – 2024 is printed on high quality art paper and it displays the date and the day of the week like every other calendar.
Apart from this, the calendar includes
Quotes from the Bhagavad Gita and other Hindu Holy Scriptures

20 essential Hindu books included in this calendar using modern technology




Mantras, Slokas, Customs and Rituals for daily prayers and observance




Moola mantras of 12 deities




Krishna Varsham, Sanskrit Days, Dates in Malayalam Numerals




Rahu Kaalam, Ekadashi and Muhurthams




Timings for lighting lamps, prayers, chanting




Instructions for Lighting lamps, Ramayanam recital, Ekadashi, Pradosha Vruthams




Monthly astrological predictions of each star




Trees ideal for each Star




Ravi Sankramanam, Njaattuvela (Sun Transits)




Daivadashakam




Ancient Knowledge Traditional Health Tips and Heritage Information




Birthdays of Great Personalities




Important customs a Hindu should know



Udayabharatham Hindu Wall Calendar – 2024 is thus a mini-encyclopedia on Hindu Dharma.
# Sales revenue is utilizing for the welfare of Hindu families.
# We will start dispatching from November 2nd Week.